Wednesday, February 1, 2006
My Curls! My Beautiful Curls!
As many of you already know, I used to cut my hair really, really short. I had a very good reason for this—I didn't like my curls, and keeping my hair that short meant that I didn't have to deal with them. However, one day Cicada said that she thought I should grow my hair out so that she and all the other girls in the world could enjoy my luscious curls. In a matter of minutes she got all the other girls in the office—and there were a lot of them—to back her up on this.
Realizing the strategic advantage this might give me in the dating world, I said I would try it for a little while and see how it went. I started getting compliments right away, proving Cicada and all my other female coworkers right: girls love curls. I'm sure my curls were instrumental in my securing a mate, and said mate hopes that Squirrel Baby will inherit the curls.
However, in the past couple years I've noticed something odd: my hair is getting less curly. I suppose it's not terribly odd, actually; I started out as a curly haired baby, but by the time I started school it was mostly straight. Then, as I approahced junior-high age, it got progressively curlier—the so-called puberty perm.
For a while, I thought my straightening hair was a figment of my imagination. But then I realized that I had photo proof: a photograph I took of myself around the time I met Brinestone.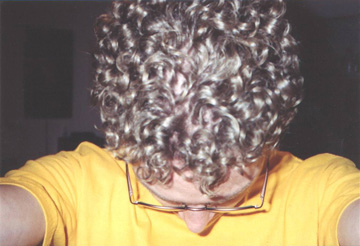 And here's another picture I took just now: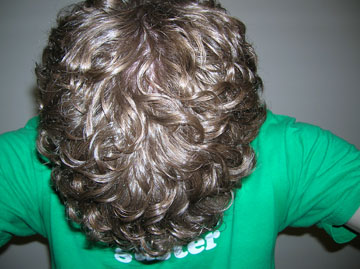 That's a pretty significant difference in only three years' time. But if they disappear forever, I shall not mourn; they helped me find the love of my life, and perhaps they will help my progeny do the same for generations to come. I wonder what Darwin would have to say about the survival of the curliest.